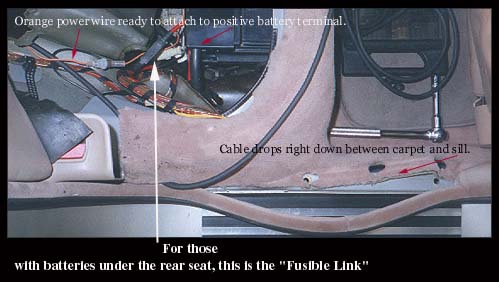 535i fusible link from Gordon.
If the fusible link is ok, check the second fuse box under the rear seat and check the fuse that might be corroded (no. 37, 30 amp) which handles all of the central locking and the electric windows and sunroof. Thanks to Raj K.

Note From Ron W. on his 535i:
there are TWO fusible links. an 80amp which is in a nice plastic enclosure held by bolts as shown on your site. the one i am talking about is near this one , but it is hidden very well under the heatshrink. this one is rated for 50amps and is part of the cable itself. there is no replaceable link like the 80amp one. i had to drill out the rivets to remove the old one. thisleft me with two opposing ring terminals that i put my fuse in between. this was very difficult to do because of how short the cable was comming through the back seat.
The two links are shown on the bentley wiring diagrams, the problem is that it doesnt mention the location of the 50amp link. i called a friend from bmw and he said it was near the battery on his diagrams. i found it by chance. now i admit i did not try to call about a replacement 50amp link, but my friend from bmw said that it was very unlikely since the original was hardwired part of the original cable.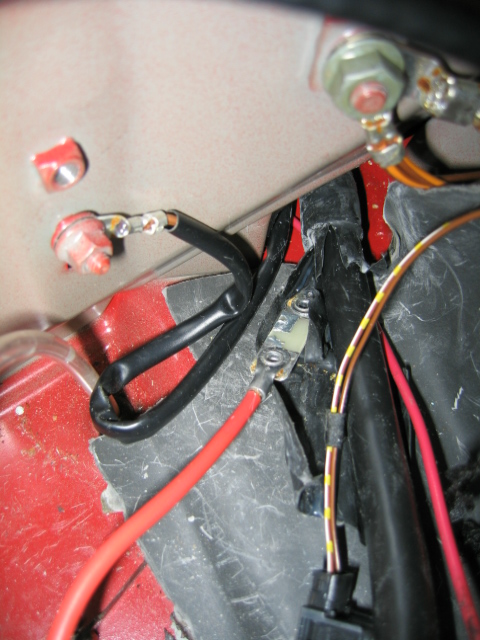 The second link in a red wire that parallels the large black wire off the battery. it was hidden underneath two layers of heat shrink. i had to cut it out and replace it with my own retro fit. now i have 12.9 volts to my dme instead of 2. this problem may be of intrest to others. took me two weeks to reslove this issue and i dont think that bmw has a retro fit for this fuse. you would have to buy a whole new battery cable.
Fusible link symptoms with good link from Greg R.
The electric windows, door locks, and sunroof went out completely. The windshield wipers would only function in high speed and wouldn't park. The problem I had turned out to be the black box under the rear seat forward of the relay module. I found references in a forum saying to check the relay module if it wasn't the fusible link. Well the relay module was good too. The problem was the contacts on the box. I figured it out when I pulled this box out and reinstalled it. I held the window down button and wiggled the box. The window worked intermittently as I wiggled. After cleaning the contacts, all works fine.

Thanks to Gordon, John T & Phil S, Ron W.