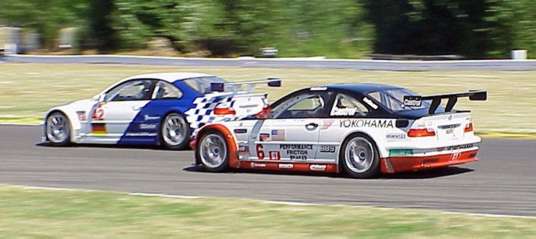 Photo courtesy of Gary Horrocks - Vista Motorsports
After a couple of driving school you will want more out of your BMW E34, one way to do it is to remove you all weather tires and invest in a good set or high performance tires or even track tires.
Summer high performance tires
I am using the Toyo Proxes T1-S tires on the track. Here are the best tire selection for the money. These are summer tires, I don't recommend driving under snow condition.


Picture

Name

Treadwear

Other

Toyo proxes T1-S

280

$160. This is the most expensive tire, but if you love going to the track, this is what you need. If you watch the speedvision championship, you'll understand. Wear fast
Falken FK451
Ziex ZE-502 (coming soon)

280

$110. Don't know anyone running them at the track.

Kumho ecsta supra 712

280

$100. I heard that they are decent at the track. Similar performances as the Sumitomo.
Sumitomo HTRZII

220

$120. The Sumitomo HTR Z is more suited than the Kumho ecsta supra 712 for the track, but slightly less comfortable for the street driving. I would presume that the Sumitomo HTRZII are even better.
Yokohama A520

180

$120. Is known to be a noisy tire, but it outperforms the Khumo and Sumitomo HTRZ on the track.
Prices are given for 235/45/17. All the tires have Traction AA and Temperature A.

Then you have the Nankang, Nitto...
Track tires (R compound tires) DOT approved racing tires
If you really want to be serious at the track, you need a set of dedicated track tires and rims. The best being the R compound tires. They are DOT-approved for street use.
| | | | |
| --- | --- | --- | --- |
| Picture | Name | Treadwear | Traction |
| | Falken Azenis | 200 | $108 No info. |
| | Toyo RA-1 | ? | $?? Everyone is recommending it at the track... There is probably a reason. |
| | Yokohama A032R | 100 | $150 (Not available in 235/45/17) No info, but people seems to like it at the track. |
| Picture soon | Kumho V700 VICTORACER | 50 | $130 (Not available in 235/45/17) No info |
| | Nitto 555R | 100 | $150 (Not available in 235/45/17) No info |
Where to buy:
• Tirerack
• Discount tires
• Vulcan tire for falken tires

Treadwear: Treadwear receives a comparative rating based on wear rate of the the tire in field testing following a government specified course. For example, a tire grade of 150 wears 1.5 times longer than a tire graded 100. Actual performance of the tire can vary significantly depending on conditions, driving habits, care, road characteristics, and climate.
Traction: Straight-a-head wet braking traction has been represented by a grade of A, B, or C with A being the highest. In 1997 a new top rating of "AA" has been introduced to indicate even greater wet braking traction. However, due to its newness, this grade will probably be applied initially to new tire lines as they are introduced and later to existing lines which excel in wet braking, but had been limited to the previous top grade of "A". Traction grades do not indicate wet cornering ability.
Temperature: Temperature resistance is graded A, B or C. It represents the tire's resistance to the heat generated by running at high speed. Grade C is the minimum level of performance for all passenger car tires as set under Federal Motor Vehicle Safety Standards. This grade is established for a tire that is properly inflated and not overloaded.